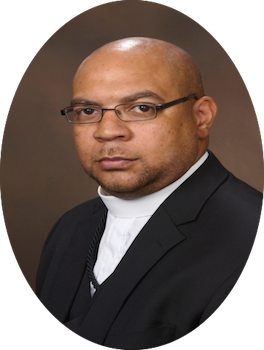 Pastor Brian K. Baker was installed as Senior Pastor of the St. Mark Community Church of Jacksonville on December 16, 2018.
He was born in Little Rock, AR, to Elder Leroy Baker and Ruth Baker. He is the fourth of five children, one brother and three sisters.
Pastor Baker is married to Ewonda R. Baker of Lonoke, AR. They have five children and ten grandchildren and a bunch of adopted sons and daughters in ministry.
God has blessed Pastor Baker to serve in many areas of ministry at different levels. He has served from Sunday School Teacher, to Choir, to Armor Bearer to Minister, to Elder, to Assistant Pastor, to Senior Pastor. To God Be The Glory!
Pastor Baker received his call to preach in 1992 and was ordained in 1997. As an Ordained Elder, he served in many areas of Church Leadership, such as Sunday School Teacher, Youth Minister, Finance Chairman, State Adjutant and Assistant Pastor.
"I can do all things through Christ which strengthenth me." Philippians 4:13
Additional Background Information – Ministry Experience
St Mark Community Church Jacksonville, AR: Al Romes Pastor: Served as Served as Associate Pastor Nov. 2016 to Dec. 2017. Assistant Pastor, 2018
Responsibilities Included: Oversee All Ministries, Budget Committee, Assist in Deacon Training; Assist in Associate Ministers Training; Children Church; Men Ministry
Victory Praise and Worship Church Jacksonville, AR
Planted and served as Senior Pastor from November 2006- November -2016. Responsibilities Included: General Pastoral Duties; Pre- Martial Counseling; Established Bible Study; Organized Ministries; Prison Ministry; Nursing Home Ministry.
Intercessory Prayer COGIC- George Gooden Pastor
Served as Senior Pastor 2003-2006
Assistant Pastor 1996-2006
Responsibilities Included: Sunday School Teacher; Finance Chairman; Youth Minister; Men's Ministry
New Calvary Temple COGIC – Bishop D. l. Lindsey Pastor
Responsibilities Included: Men' Ministry; Adjutant Chairman; Security; Choir; Oversee Associate Ministers; Convocation Organizational Team
Education
1982-1984 Little Rock Central High, Little Rock, AR – Graduate
1984-1985 Capital City Junior College, Little Rock, AR – Accounting Certificate
2015-2016 Midwest College of Theology, St Louis MO – Associate of Bible Studies
Community Involvement
Council Member of Community Oriented Policing Advisory Council {COP}
Citizen Police Member City of Jacksonville
Board Member Jacksonville Boys & Girls Club
Minister's Alliance for the City of Jacksonville
Work Experience
AFCO Steel 1987-2010
Master Fitter – Welder
Machine Operator
Casa Bonita Restaurant 1982-1987